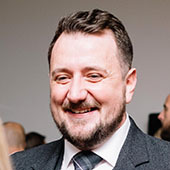 David Beveridge
Head of Operations and Sales
Why choose Peoplebank when considering an ATS?
Here at Peoplebank, we are market leaders in the world of recruitment technology; allowing in-house recruiters to source, recruit and retain candidates like never before. Propped up by a team of industry specialists, our business is built to offer a professional service to HR and Recruitment professionals. Having won various awards for our intelligent systems, we are proud to offer a streamlined, jargon-free Applicant Tracking System (ATS).
With a mission to save our clients time, money and headaches throughout their recruitment processes, we like to think of ourselves as the recruitment Fairy Godmother!
Understanding that there are an overwhelming number of ATS providers now on the market, through this blog we paint a picture of why we love to be different.
Bespoke solutions
Where the majority of businesses require similar features and functions from their ATS, one size certainly doesn't fit all. Working closely with small, medium-sized and large businesses, we understand that all businesses have different requirements. This is why we are focused on providing bespoke solutions, getting to know our client before creating them a personalised ATS dashboard.
Our Experience
Enjoying over 25 years of experience in this niche area, our team are well and truly equipped to support businesses of all sizes. From having our finger on the pulse when it comes to recruitment trends to boasting the ability to create sophisticated systems, everything we do is based on our experience.
Launching back in 1994, we have now helped hundreds of companies across the world, constantly flying the flag for technology in recruitment. In 2007, we joined forces with Daxtra Technologies Group - the market leaders in CV parsing software and multi-source searching. As a result, our family is now bigger, better and more diverse than ever!
Account Management
Through recent research projects, we uncovered that one of the biggest bugbears when it comes to software investment is account management. Here at Peoplebank we work as an extension of our clients' team, always on hand to offer advice, support and answer questions clients may have.
This enables clients to get the most from their software, constantly building on their recruitment technology to ensure their recruitment and onboarding processes are as efficient as they can possibly be.
We've achieved some great things!
Having won two prestigious industry awards, we are always humbled to see our efforts recognised by both the industry and our much-valued clients. Below are just a few statistics that came from our most recent client survey:
● 92% of our clients surveyed rate us as good to excellent in delivering work on time and to the timescales given.
● 94% of our clients rate their Account Managers understanding of their business and their business needs as good to excellent.
● 95% of our clients rate our understanding of their Technical requests and our subsequent work as good to excellent.
● A staggering 98% of our clients surveyed rate their Account Managers service as good to excellent.
● 93% of clients surveyed rate our overall services as good to excellent.
We're not your average ATS provider
Whilst we are best known for being an ATS provider, our solutions support the recruitment process to its entirety. From building bespoke applications and career sites to integrating with payroll providers to support the onboarding process, we are proud to see our end-to-end service helping businesses daily.
Want to learn more about your ATS options?
Contact us at Peoplebank today for more details on our solutions. With a friendly, knowledgeable and helpful team, we will be sure to give you a true insight into how an ATS can meet your online recruitment needs.