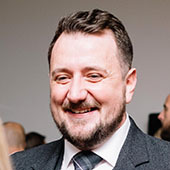 David Beveridge
Head of Operations and Sales
Why Account Management is so important when choosing an ATS
A good client-supplier relationship might just be the most important part of your Applicant Tracking System (ATS). Recent research by Salesforce found that 80% of customers now consider the experience a company provides to be as important as its products and services.
Over years of supporting businesses with our ATS and candidate experience solutions, we have seen just how important our account managers are. They are there to help you get the most out of your ATS and are your first point of contact when you need support or some extra advice.
From helping you get up and running with your ATS, to offering guidance on how you can make the most out of your solution, here are some ways that your account manager can help you.
Flexibility
Your recruitment process may be continuously changing as you look for new and better ways to attract and retain talent. To get the most out of your ATS, you need to make sure that it's flexible enough to fit with your evolving recruitment needs.
Having regular touchpoints with your supplier gives you the opportunity to easily build upon your current ATS solution and align it with your updated workflows. Your account manager will already be familiar with your recruitment workflows, so will be able to offer helpful solutions on how to really optimise your ATS as you develop your hiring process.
We want your recruitment to be as successful as possible so we are always at hand to steer you in the right direction and ensure you are getting the full benefits of our systems.
Training
The most important part of integrating new technology into your business is knowing how to use it productively.
At Peoplebank, we want to make sure that the training we provide is relevant and engaging. This is why your account manager will deliver training as they know your business needs and can ensure that your training programme targets the areas of the ATS that are relevant to your team.
We provide onsite and online training, as well as supplementary resources such as manuals and videos. We will constantly keep you informed of any updates to your system, introducing new functionality to your superusers and holding training sessions specifically designed to get your team familiar with our software.
Support
If you are experiencing any difficulties or have any questions, your account manager is always ready to help.
This is a key focus for our account managers. As well as dealing with any urgent questions, they will book in regular calls with you to make sure your solutions are still working with your recruitment process and helping to make your team more productive.
Our recruitment solutions are designed to reduce the administrative burden for your team while providing a good experience for candidates. We see our client relationships as partnerships, so it's really important to us that you get the most out of your systems.
Want to learn more?
Our Account Managers
When you become a Peoplebank client, we will assign you an account manager who works as an extension of your team. While you are using our ATS, your account manager will always be available to support you and help you meet your business needs.
Contact us to find out more about how we can support your business.