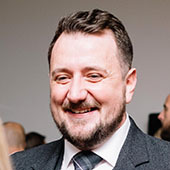 David Beveridge
Head of Operations and Sales
5 Key Things To Consider When Choosing Your First ATS
If your business has reached a point where you're looking for a solution to manage your applicants, then it's time to consider an applicant tracking system (ATS). An ATS is a software application that manages and streamlines your recruitment and hiring process, typically dealing with tasks such as posting job vacancies to multiple job boards, managing candidate communication and sending out offer letters.
Applicant Tracking Systems vary in what they offer, and there are certain factors to consider when you're selecting one. In this article, we'll look at five of the key things you need to consider when choosing an ATS for your business.
#1 Does the ATS provider understand your business?
The ATS you choose should have all the features and functionality you require. But also, the ATS provider you choose should take the time to gain a deeper understanding of your business and the problems you're looking to solve so they can provide you with the best possible solutions. You need a provider that has the ability and desire to partner with you and help you grow your business.
"When I spoke to David Beveridge at Peoplebank, I could tell he got retail – how it works and what challenges are involved from a recruitment perspective. David really understood our market, unlike most ATS providers who were just generic. David got retail and he got us."

Gareth, Recruitment Manager at Mamas & Papas
#2 Is the ATS custom-built for your recruitment processes?
Try to choose a provider that can offer you a custom solution. "Packages" or "off the shelf solutions" are ok, but a provider that listens to your individual business needs and processes and can accommodate your requirements will be able to offer you an ATS that's an asset to your business.
The last thing you want to be doing is having the hassle of constantly changing providers or having to upgrade your system. Choose a provider that can build your system around you.
"The Peoplebank system is bespoke and flexible, moving with us as we change. It's more of a partnership model, which makes it different to any other ATS I've used."

Nathan Rackham-Wood, Talent Acquisition Manager at LGH Hotels Management
#3 Choose an ATS that offers great candidate experience
Of course, the usability of an ATS is massively important from an end user perspective - but ultimately, an Applicant Tracking Systems job is to offer a credible platform that helps businesses engage with and manage candidates seamlessly from the first point of contact through to becoming a new employee.
Choose a provider that will create a careers site and build a candidate journey that fits your business needs. You don't want a careers site that makes it impossible to distinguish you from your competitors. Instead, you want a careers site that reflects your unique brand, identity and values.
"We've partnered with Peoplebank to enhance every touchpoint on our candidate journey, especially our branded careers site. Peoplebank's support has been vital in ensuring we attract and hire the right candidates and provide them with a great candidate experience."

Stefanie McCormack, HR Director at Beaverbrook
#4 Work with a company that offers a personalised service
You should prioritise finding a provider that is established and has a good reputation, but that also provides you with a dedicated Account Manager to look after your account. Look for a provider that will give you access to your Account Manager with not only a personal email address but a direct mobile number for them too. Make sure you choose a provider that can offer you the service level and contact your business needs and deserves.
"The customer service and the collaboration to make it work has been great. There's a strong sense that our Account Manager really wants our system to be as successful as possible."

Phillipa Butson, Resourcing Manager at Clancy
#5 Check to see who the ATS vendor currently works with
Whenever you're looking for an ATS and evaluating different providers it's important to take a close look at what brands and businesses your prospective ATS provider currently has as clients. These businesses will be their clients for very good reasons. If an ATS you look at has credible, well-known clients and good reviews then there's a good chance that they are a reputable business
Ask them for their current client retention rate, how long they have partnered with them, the specifics of how they have helped them, and why they chose them and stay with them.
"Switching our Applicant Tracking System to Peoplebank was a great decision. The system is easy to use and has all of the features we were looking for. I would highly recommend both the Peoplebank system and their customer service for anyone looking for a new ATS."

Diane Wilkinson, Talent Acquisition Manager at AllSaints
There's a lot to consider when you're selecting an ATS, but if you focus on these key areas, you'll be well set in choosing an ATS that is right for your business.
At Peoplebank, we pride ourselves on taking the time to understand individual customer needs so we can build customised, bespoke ATS solutions that fit your hiring and business requirements. To learn more, get in touch, and one of our team will reach out to arrange a demo.